Wi-Fi Troubleshooting
BT Whole Home
Follow these steps to resolve connection problems with BT Whole Home.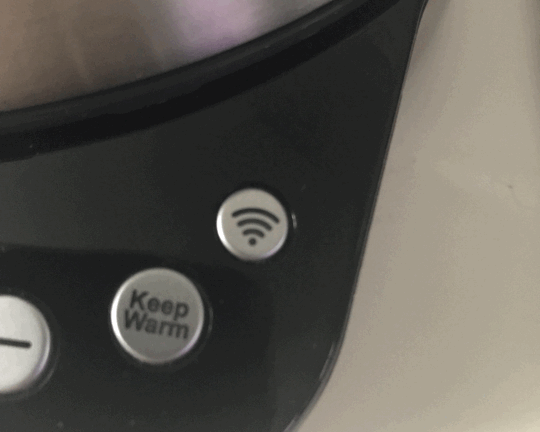 Start by pressing and holding the Wi-Fi button on your Appkettle for a few seconds so it starts to flash more quickly. If this doesn't happen, please contact us.
Step 2: Update the kettle using the Hotspot Method – 3G/4G.
Turn on two smart devices with 3G/4G (iPhones, Android Phones, iPad).

On one device turn on the Wi-Fi hotspot then connect the other Wi-Fi device to this hotspot. Please Note: The Appkettle App to use on your iPad is in the supported 'iPhone Only' filter selection in the App Store.
Once you are connected to the mobile hotspot, log in to the updated Appkettle App and pair the Appkettle with the hotspot's Wi-Fi.

Select your Appkettle from the 'devices' screen. This takes you to the Appkettle home screen and you should see a new Wi-Fi update message. If you don't see this message, log out, log back in again and go to the Appkettle home screen.
Select 'Upgrade'. Once you see the 'success' message log out of the app then immediately log back in and go to the settings section. Click into the 'About' section and make sure the 'Kettle Version' shows as 0.4.9.

Disconnect from your temporary hotspot and repair your Appkettle using the App and your home router.

If this isn't successful, try Step 3.
Step 3: Try Another Smart Device
In rare cases, third party pre-installed app scanning software can affect the first time pairing of the kettle. Try connecting using another smart device (iOS/Android) before moving on to Step 4.
Step 4: Turn On Compatibility Mode
Ensure you are connected to your Whole Home Wi-Fi network.

Go to http://mybtdevice.home

Enter your 'Admin' password and click on Login. The Admin password is printed on your 'Wireless Settings Card' located on the back of your discs.

Select 'Settings', then 'Wireless'.

At the bottom of the page change 'Compatibility Mode' to 'Enabled', then click save.

Log out of the advanced settings and connect your Appkettle.
If you still cannot get your Appkettle connected please contact us for further assistance.